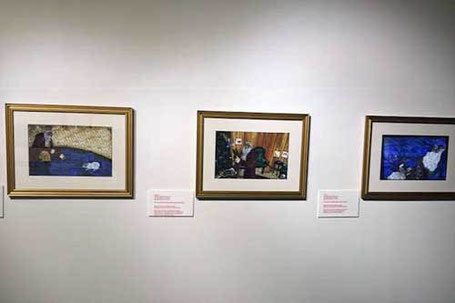 I just received photos from the curator of the exhibit, The Night Before Christmas: Illustrations from 21st Century Editions of the Poem, where three of my mosaic illustrations are hanging. I am honored to be sharing the walls with some of my favorite illustrators including Lisbeth Zwerger and Bruce Whatley.
I love the little alcove with all of our books for visitors to look through and read, or be read to as these kindergartners are!
From the curator in MOAS Magazine: "In the 21st century, innovative - often wildly eccentric - illustrators have presented exciting, fresh new ideas for characters or plot details. The MOAS exhibition features three dozen of the best of these illustrations..." Of me she writes: "Christine Brallier's stained glass illustrations are remarkable in their detail, especially for the jubilant, bugling reindeer and a decidedly suspicious cat." The exhibition is at the Museum of Arts & Sciences in Daytona Beach, Florida and runs until February 24, 2019.
I'm proud to be a part of this beautiful exhibit!

<3