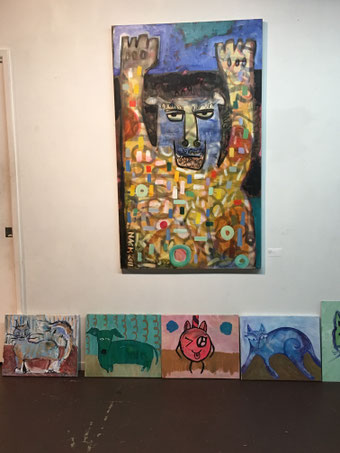 For the past couple of months I have been playing with acrylic paint and not feeling like I was making much progress. I wasn't planning on taking a class, just experimenting on my own; but when I saw that one of my favorite local artists, Brad Nack, was going to be teaching his layering technique of painting animals, I was inspired to sign up.
I first discovered Brad's art years ago at his annual 100% Reindeer Art Show (Going 20 years now!) I was instantly drawn to his colorful, quirky reindeer with crazed expressions and began following along on his artistic journey. So I was excited when I discovered he would be teaching a two hour class at my local Art From Scrap (his artwork is currently on exhibit there so go see it while you can! 302 E. Cota, Santa Barbara, CA)
Brad was a lot of fun and I'm newly inspired to continue my exploration with paint!